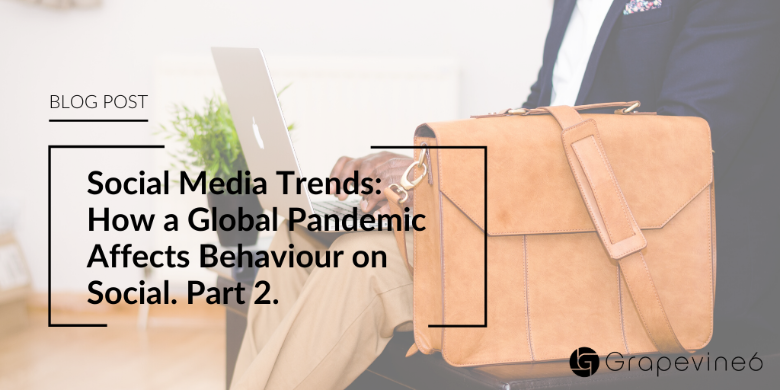 Social Media Trends: How a Global Pandemic Affects Behaviour on Social. Part 2
By Dana Koenigsberg

In part 1 of this series, I explored the impact of the coronavirus on what types of content people are engaging with on social media. I discovered that in only 10 weeks, the number of COVID-19-related content shared by Grapevine6 users jumped from 3 to 90%, and has stayed at that level for the past month. The content has almost entirely shifted from business to social and personal aspects of the virus outbreak. Now, we will take a look at how content consumption habits have changed since the outbreak.
Firstly, in March we recorded a 30% increase in clicks on content shared from the Grapevine6 platform compared to the previous month. People are engaging with content on social media more than they were before the pandemic. Since engagement on articles has gone up, I recommend sharing more frequently and tracking clicks on your posts, so you can get a better understanding of what your audience is interested in.
Peak hours on social media have extended
Another interesting trend we have seen amongst our users is a shift in the peak times that people tend to share and consume content. The data shows us that overall, people are reading and sharing content on social media later in the day. As the workforce moves from a 9 to 5 office environment to a more flexible work-from-home setting, people are no longer sticking to a set schedule. Whereas in February, when the peak reading hours on weekdays were 2pm to 5pm, the peak hours in March were 2pm to 9pm. Rather than a steep drop-off at 5pm, there is a longer tail that trails off slowly in the evening. People want to stay up-to-date all the time – not just during work hours.
Content engagement on weekends has increased
Compared to March 2019, this month there has been a 150% increase in clicks on weekends. Before the viral outbreak in North America, the weekend was seen as a time to disconnect from the working world and focus on one's personal life. With the work days and weekends blending together in isolation, people are reading online during weekends more now than ever before. Since the peak active sharing hours have changed, your sharing strategy can change too.
In the weeks to come, we will continue to monitor the changes and trends in the behaviour exhibited by our users when engaging on social media. I believe that there will be more interesting insights that can help us adjust our strategies for how, when, and what we share on social media in the new, digitally connected world.
Grapevine6 is a content engagement platform and the trends mentioned in this article are not scientific fact. For the purpose of this analysis, anonymous data was aggregated from the Grapevine6 platform using select clients from the financial services industry.