Building Relationships Through Social Selling
SAP has trained more than 12,000 employees on Social Selling including how to use tools such as LinkedIn Sales Navigator, Voicestorm, Twitter, Videolicious and Grapevine6 to identify prospects, generate leads, build pipeline and win business. In this series of blog posts, you'll hear from Social Selling frontrunners, in their own words, on how they use these tools to drive success and how Social Selling has helped them in their roles.

The seventh interview in our series is with Sara Hurst, Client Sales Executive at SAP Concur. As Client Sales Executive, Sara helps businesses control their spending through SAP Concur and works to develop herself as a thought leader amongst her network of clients.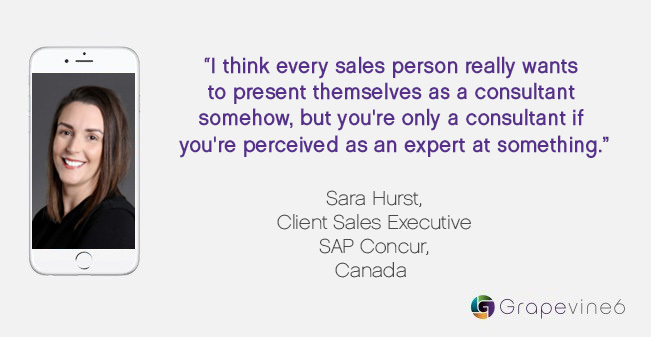 About Sara

I was in new business sales when I started with Concur. I then moved over to business development on the partner side, and most recently, I've moved to the client development side.

Until about two weeks ago, I was the only SAP Concur client sales rep in Canada, so our entire client base of companies with under 1,000 employees was my responsibility. We currently have more than 700 hundred clients on that list.

My challenge was, realistically, how am I going to touch every client and how am I going to engage and make sure they look at me as a valued expert for every instance of Concur? It was a big task at the beginning so I was really excited to try to utilize social media when reaching out to try to get a relationship going with all 700 hundred clients across Canada.

Understanding the Importance of Social

I think when I came into this new client-sales role, my perspective changed on how I needed to reach out and build relationships. Specifically, because most clients had recently moved to a new business sales rep, they had a new account manager, they had all these different people that were touching their accounts and supporting them.

I needed to find a way to stand out, as well as present myself as a knowledgeable resource. I think every sales person really wants to present themselves as a consultant somehow, but you're only a consultant if you're perceived as an expert at something.

Taking on an entirely new client base of hundreds of new clients, how do you become an expert? The answer is by certification or reputation. And for me, reputation is really what I wanted to build online so that my clients would know that I am not just calling and saying I know what I'm talking about here. I wanted clients to be able to do their own online research and see that I've worked with Concur for a long time, I've worked with a number of their colleagues or companies in the same vertical, and I have expertise that allows me to support their business.

Building a Reputation through Social

I think social is another way to connect with the client that's not just from a corporate marketing perspective. It's not just a newsletter that is coming out from Concur; it's me, myself. It's thought leadership from Sara Hurst. It's suggestions on articles and topics from myself.

A lot of the communication is coming from the company as a whole, but not necessarily from the individuals who are touching client accounts every day. I think that's kind of what separates you and allows you to stand out from all the other people that are touching an account.

Whether you're the implementation person, another side of the sales cycle, or an account manager, there's a lot of different folks that are involved and just being able to stand out from the crowd and distinguish yourself as a value add to the client is so important.

Social also gives you the chance to have your own point of view, so I rarely if ever share anything without adding my own perspective. I don't read anything that someone just blindly shares, because I know that they probably just pressed share and didn't actually read the article or they don't really have any reason to share that piece of content.

Being Brave and Being Memorable

For me, being brave means stepping out of my comfort zone. For example, I'm not as comfortable doing a video, but I know that leads to a lot of success on social media, so I'm trying to do more of it. Often I add a snippet of myself actually speaking as opposed to just writing content that can be read. It's just so different and not something that you typically see on LinkedIn – a really great way of communicating with your client base or their followers.

I think the other piece of that is, again, just bringing your own point of view into the content you share to make it more memorable. Add something that's maybe a little bit different, talk to different verticals, but also talk to different topics. It doesn't necessarily always have to be a comment on something specific to your product or your role, but adding some things in there that show your personality too. Is there something a little bit humorous or personal that you can add that would humanize the conversation and remind everyone that there's a person behind the computer that's writing this?

Creating Relationships that Matter

Instead of just blindly adding people, show up and add your perspective on things from people that you want to follow, or that you would like to follow you to show that you have interest in what they're saying.

Link your LinkedIn account to your calendar so every time you have a meeting coming up, you get a reminder saying "Hey, make sure you check out Mark quickly on LinkedIn; you have a meeting with him in five minutes." This gives you the opportunity to have a quick look beforehand, but also to be able to follow up with them afterward. Send them an invite that's relevant to the conversation you had with them. That's something I always do to make sure that I'm adding people as we're having conversations and as I need them. If there's someone specifically – a group, or a company that I want to take notice of me – then I make sure that I show them how interested I am in their topic of conversation, or what they are sharing on social media.

Something to avoid that I've seen is just a lot of blind connection requests. Reaching out to people that you don't really know because they are a second degree connection of somebody else in your network, rather than asking for a recommendation or introduction, is not a great idea. I've found that's not the best way to build a network that you can actually rely on and reach out to. You just have a whole bunch of people that you're following that you don't really know.

Final Thoughts

Take advantage of participating in the same online community that your prospects or clients are already involved in. They are watching and listening so, be memorable! Bring your own perspective to everything you share.