Building Relationships Through Social Selling
SAP has trained more than 12,000 employees on Social Selling including how to use tools such as LinkedIn Sales Navigator, Voicestorm, Twitter, Videolicious and Grapevine6 to identify prospects, generate leads, build pipeline and win business. In this series of blog posts, you'll hear from Social Selling frontrunners, in their own words, on how they use these tools to drive success and how Social Selling has helped them in their roles.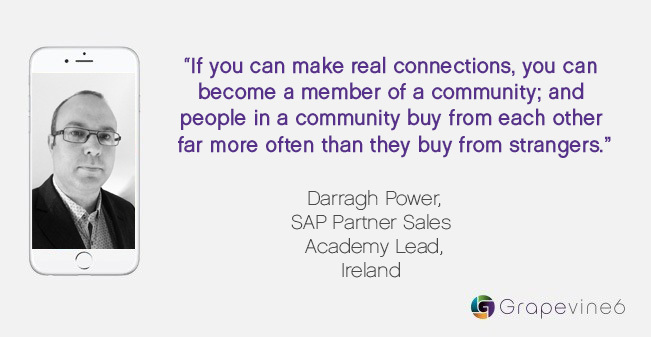 The Sixth Interview in our series is with Darragh Power, SAP Partner Sales Academy Lead and Social Selling expert. In part one of this interview, Darragh discusses the importance of creativity and authenticity in Social Selling.
About Darragh
I work in the Sales Acceleration and Leadership Programs Team, which is part of the SAP Sales University. I run a global program for partners and sales reps, and train many of SAP's Social Selling trainers on adult learning, helping to make their training engaging and effective.
How do you approach introducing Social Selling at SAP?
The first thing I usually say to people is, "have a why." We don't really like the word "brand" because its very corporate and it lacks authenticity, so our "why" is often reputation. Reputation is what people say about you when you're not in the room, and the Internet is a pretty big room. Engaging in social is thinking about what kind of reputation you have now and how you want to change it. That could be visibility, or it could be changing what you are known for. Every touchpoint you have with people will either help or harm your reputation with them, so you need to bring the right tools to bear. Our approach is to have a good reason why, and depending on who it is you are trying to contact, pick the most appropriate tools. Ideally, we try to make people think for themselves about who they are trying to contact, and where those people hang out. That sense of perspective gives clarity on what tools need to be used.
The next step is understanding that what other people say about you is a lot more powerful than what you say about yourself. There are plenty of people out there who say "I'm great at this" but it isn't really believable. On the other hand, if someone else comes along and says "you're really good at this," it can become a very powerful message. If you're putting out something of value, those who benefit from your content and your opinions can become referral engines for you. The more relevant that content is to the concerns of the business, the more that content is a way of starting a conversation with various businesses. The key point is not to use social for the sake of it. You need to have an idea of why you're doing it and the reputation you want to have, and how you're going to give value to people so that they tell other people about your business and share your stuff.
It sounds like you place a lot of emphasis on reputation. What recommendations do you have for people who don't have one yet, and need to build their reputation from scratch?
There's a quote I use that goes along the lines of "people of accomplishment rarely wait for things to happen, instead they go out and happen to things." The idea is that even if you're new, you can go out and start having conversations with people and you can gain real insights. You don't need to be an expert for that, you just need to have the some enthusiasm. Start listening to what's really going on in the world and talk about it. Form a point of view, and then go out and find an opinion piece on it. It doesn't matter if you agree or disagree with it, the goal is to hear some feedback from others and to start some debate. That way, you'll enrich your point of view, even if you find out that you're wrong. That enriched point of view in your industry can help you figure out what would really help your prospects and customers. So, if you're just getting started, try to build a little bit of context in your area by doing research, and use that context to figure out how you're going to provide value.
You've mentioned that Social can be done wrong. What are the things to avoid when trying to use Social Selling?
The wrong way to do it is to talk about yourself. Don't say what your company is and what you've come to sell. In music we call it the lead singer warmup: "doh ray me me me me." It won't work. That message is only interesting to the sender, not the receiver. The best conversations start when there is something in it for the other person. Find something that your audience would have an interest in and talk about it. If there's a change in the law or a big case recently, for example, that's a great way to talk to a head of compliance.
I had a guy email me three times trying to sell me some sales software, and I eventually sent him a message back saying, "Would you like some feedback on why I haven't accepted your requests"? And to his credit he responded, "yeah." So, I asked him if he had used automated sending and he of course admitted that he had sent it to three hundred people. The guy was honest, but if you have a bad message and you automate it you're only multiplying the bad message. What really matters is connecting, not quantity of touch points.
How do you think that community fits into Social Selling?
Social implies a sense of community. If I am in the luxury yacht business, there's a very small community of people who buy luxury yachts. If I want them to refer me to each other I have to serve their community. I can't push or bully my way in, but if I am valuable in that community then they will look after me. When they want to know who to go to get something done, they'll mention me because I provide them value. You're not connecting to a person, you're connecting to a community and I think that's very important for multiplying your effectiveness.
Social Selling is being adopted in a lot of places, but it also has lots of skeptics. Why do you think some people have been slow to adopt social selling, and what would you say to the people who doubt its efficacy?
I think adoption has been a bit slow because social has an attribution problem. If you hire someone to make a hundred cold calls every half hour, if you buy automated software to send the same email to a few thousand people, you can work out that between one and three percent of those touches will lead to a meeting, and really plan around how much it's going to cost and how much it's going to result in. But with social, that comparator isn't well defined, and so people stick with what they've always done, because it's easier for them to see the value. But having had many conversations with the SAP guys and many others who have been successful with social, I can tell you that they all started conversations that would never have been possible without social.
One of our channel leaders in the Nordic Countries thought LinkedIn was over rated, so he decided to test it. His way of testing was to send out connection requests to CEO's at a lot of tech businesses in the countries he operated in. He didn't make it about doing a hard sell, he said something along the lines of "if you're ever in the capital, lets have a cup of coffee and discuss the trends in our industry," and he succeeded at connecting with a hundred and fifty of those people over the course of the next two years. Still, he wasn't convinced those connections meant anything, so he decided to run an innovation day, where all of those connections could get together and discuss the issues effecting all of their businesses. He got around eighty of those CEO's attending in person. If you try to start conversations, and you keep listening to what they are saying and what really concerns people, then you can jump in and start solving problems for them.