Building Relationships Through Social Selling
SAP has trained more than 12,000 employees on Social Selling including how to use tools such as LinkedIn Sales Navigator, Voicestorm, Twitter, Videolicious and Grapevine6 to identify prospects, generate leads, build pipeline and win business. In this series of blog posts, you'll hear from Social Selling frontrunners, in their own words, on how they use these tools to drive success and how Social Selling has helped them in their roles.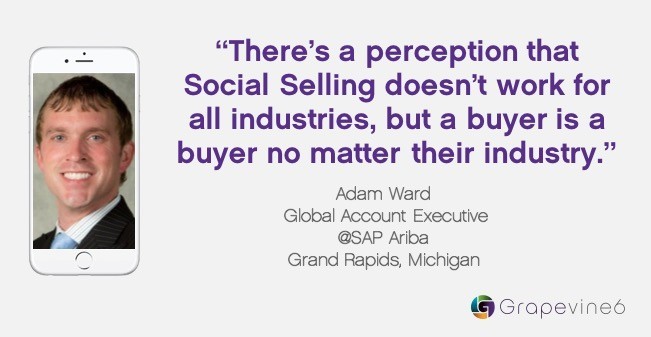 The fifth interview in our series is with Adam Ward, Global Account Executive at SAP Ariba. Adam discusses how important it is to act as an advisor to customers and share content with them in a way that's easy for them to consume.

About Adam

I am a Senior Account Executive responsible for managing a territory of six to eight Fortune 1,000 customers and leading a sales team of about 25 reps, who have joint responsibility and accountability to the SAP technology suite.

Being an advisor to your customers

I have always shared content, but in recent years the focus at SAP is on developing the capability to spread awareness and create connections through our networks. The reality of sales today – especially with respect to what we do at SAP – is that most customers have done a lot of work (research, analysis, review) before they want to talk to us. The more relationships with the customer change, the more important it becomes to be seen as an advisor to them and to continue to bring them value. There's a level of trust that's created from that.

Building trust to build relationships

The nature of my business is already very connected to customers, and anything we can do to keep SAP and our innovation front and center for the customer builds trust and changes perceptions in a positive way – both for me personally and for SAP as a whole. I have an account focus, and the breadth and depth of relationships with the customer is what I am driving, so you're expected to be a thought leader, and to come to them with solutions.

Making it easy to engage customers

The senior-level decision makers I need to reach receive between five and seven hundred emails per day, so my communication has to be incredibly tailored and focused on their business. We're lucky at SAP to not only have an abundance of technologies and solutions we can provide to a customer, but also a wealth of ideas that we bring to those relationships. The challenge is finding a way to put those solutions and ideas in front of a customer in a way that is easy for them to consume. It has to be on their own time, and it has to engage them where they want to be. Social Selling does all of that for us. It allows us to put forward our best ideas and our best content, and it allows us to do it in a way that isn't email or a structured meeting. It is on their mobile devices, available when they are on the go and when they find time. For me, using Grapevine6 to increase the volume of content on my network is a very simple process. I spend five or ten minutes earlier in my week and I can select content that takes some of the best ideas from SAP and puts it in a format that is compelling, both in terms of what the content is, and in terms of how it is delivered. So much of the work branding and marketing that goes into content is done for me, and that has been a great asset to my productivity.

Social Selling works

There's a perception that Social Selling doesn't work for all industries, but a buyer is a buyer no matter their industry. I call on tier one automotive manufacturers, and though you wouldn't think they were a natural fit for Social Selling, it works because they do their research, they're knowledgeable and they form trusting relationships with their vendors just the same as a technology, software or retail buyer would. If you want to find an avenue to change the perception of you and the company you work for, in the eyes of the buyers, then Social Selling is a great way to be ultra-productive while doing it.