Social Selling: Small Steps, Big Leap!
SAP has trained more than 10,000 employees in Social Selling including how to use tools such as LinkedIn Sales Navigator, Twitter, Voicestorm and Grapevine6 to identify prospects, generate leads, build pipeline and win business. In this series of blog posts, you'll hear from Social Selling frontrunners, in their own words, on how they use these tools to drive success and how Social Selling has helped them in their roles.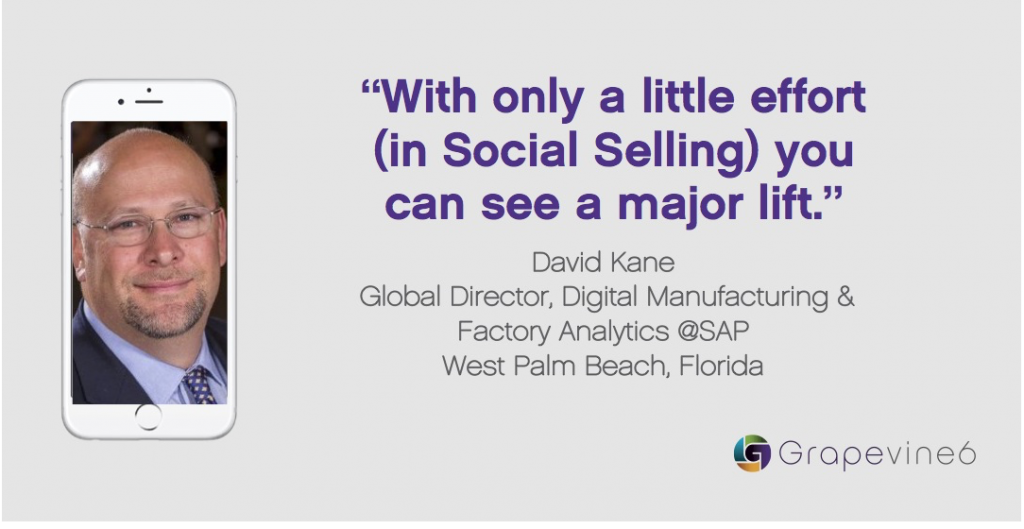 In this third interview in our social selling success series with David Kane, SAP's Global Director, Digital Manufacturing & Factory Analytics, based in West Palm Beach, Florida. David shares some practical insights and suggestions for Social Selling success.

About David Kane

I am a Global Director, responsible for digital operations and digital manufacturing Go-To-Market industry strategy for the Consumer Products Industry Business Unit.

With a Little Effort, You Can See a Major Lift

I went to a regional field kickoff meeting in Mexico City about a year and a half ago, and I met with one of my colleagues, Kirsten Boileau, who is globally responsible for Social Selling at SAP, and engaged her to do an assessment of my go-to-market strategy, my thought leadership approach and how I was leveraging social media channels such as LinkedIn and Twitter. She introduced me to the Social Selling Index (SSI) from LinkedIn, as well as the Grapevine6 content engagement platform. I was skeptical at first because I thought "who really has the time to synchronize their resume, their LinkedIn profile and all their other social channels, and come up with a communications strategy for prospects and clients?" I thought it would be challenging to take a programmatic approach to engaging with customers, but what I discovered is, with the right tools, getting serious about Social Selling doesn't have to involve an entire weekend away from friends and family or an all-nighter. With only a little effort, you can see a major lift.

Social Selling Best Practices

I've linked my Microsoft Outlook calendar to my LinkedIn profile, so I'm constantly expanding my network just by virtue of going through my regular schedule. For example, if I'm meeting with a particular customer, my calendar would automatically sync me to his or her LinkedIn profile so I can review it prior to the meeting to have some context on the person I am speaking with to better understand their professional profile and background. I can do this with any of my customers and prospects. At the end of the day, I'm in business development; my job is to interact with and build relationships with people, and the way to do that is to really understand them.

I couple this knowledge with content I share on LinkedIn, Twitter and Facebook. I leverage all three communication channels along with Grapevine6 and publish content in my area of expertise. When posting to my social channels, I try my best to share articles that I feel will resonate well with my audience. Eighty percent of my Grapevine6 posts that "automagically" get posted to my online channels are business-related and 20% are sports-related, which I use to drive small talk and conversations with prospects. About 15% to 20% of my posts are custom posts that are my specific point of view. I think it's very important to get my point of view across. This balance of communication can lead to a customer engagement to talk about what SAP can do to solve business problems and drive positive business outcomes, which is an awesome zero-budget way to leverage social to engage my audiences.

Having a limited marketing budget is always a challenge, so using social and digital tools means I can share relevant content with customers across the globe. I can track who's engaging with my posts and see who's looking at my LinkedIn profile. When people look me up, I'll drop them a note. I spend 15-minutes a day just following up on the activity that Grapevine6 generated for me. I also use the lead generation tools in LinkedIn Sales Navigator. I start engaging with prospects one-on-one with the goal of asking for a face-to-face meeting or to extend an invitation to some sort of social event; for instance the US Open, the Masters' Golf Tournament or even a game at Wrigley Field. My view is that if you're going to use social, then why not ask to get social with audiences? And that's how I build my brand. I use social to connect with contacts and customers and clients and then I ask to actually get social.

Make the Investment

Make the investment in you as an individual seller, make the investment in you as a professional marketer in technologies and tools, because while budgets are going down, expectations are going up. Our professional work life is becoming more competitive, so we need to assist our work streams with these technologies and tools to constantly expand our network. Set aside some time. It doesn't have to be an entire weekend away from friends and family. You don't need to take an extreme approach to give yourself a Social Selling lift or get some impact out of it. It's about little steps, it's about starting small. It's good to synchronize your profile across all your channels, so that no matter which one you're using, your profile, job title, and description of your role and responsibilities are clear.

The other investment is to set up Grapevine6. Configure it. Set up your favorite sports, your favorite business topics. The fact that I can customize my interest graph to what my DNA is about is really valuable. The app knows who Dave Kane is, what am I passionate about, what I want to share with my prospects, my colleagues, my friends, my peers, my mentors and my customers. I want to share my day-to-day responsibilities and accountabilities with my audience, as well as the things that I'm most passionate about. My philosophy is 80% business, 20% personal, that whole 80/20 rule seems to be a good balance for me. Make the investment as an individual seller, as an individual marketer, it will pay off in spades.

Social Selling techniques actually make work more fun and enhance productivity. Over the last year and a half, there's definitely been a couple million dollars of revenue that I have touched or impacted in a positive way as a result of engaging through social channels, which leads to broader customer engagement.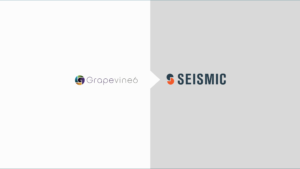 Grapevine6 has been acquired by Seismic, the industry-leading sales enablement platform provider Today marks the beginning of a new chapter
Read More »