In my 12+ years at Guardian Life I built and ran a social selling program for nearly 2500 Financial Advisors. I learned A LOT along this journey of creating a social selling program from scratch (and I truly mean from the very beginning) and taking it to maturity.
This post is second in a multi-part series aimed at helping others launch, scale, sustain, measure, and ultimately win in this powerful business-building capability that has become even more mission-critical in a world where face-to-face business development and client service is curtailed.
It's Not Easy Being an Early Adopter
Being an early adopter of social selling within Financial Services had its pluses and minuses. When we built our program, very few Financial Services companies were embracing social media. This gave us an opportunity to get a big leg up on the competition and provided our Financial Advisors with a real competitive advantage.
The downside of being an early mover was that there were very few vendors to choose from. But, as I tell my five-year-old, you get what you get so don't throw a fit. At least my firm was willing to invest in social selling early on when many others were not. 
It Was Time to Move Beyond the Legacy Platform
We stayed with the same vendor for nearly five years, but the need to modernize and upgrade became painfully clear.
We recognized that the time had long since come to move away from the legacy platform which included both compliance and social publishing. It was time for us to work with a superior social publishing vendor and a compliance partner solely focused on keeping us safe.
It was the combination of a number of unmet needs that made this move necessary.
Compliance Limitations

– Workflow-based compliance solutions were too manual, time-consuming, and inconsistent due to reliance on human reviewers. There were also many gaps that led to inability to enforce our social media policy.

Demand for More 3rd-Party Content

– Not enough 3

rd

-party content for advisors to share led to lookalike sharing along with oversharing of corporate content.

Demand for Personalized Curated Content

– Advisors demanded content that matched the interests of their target markets to drive engagement.

Ability to Personalize Status Updates

– Canned status updates didn't drive true engagement for advisors nor did they support their unique personal brands. It had also required a person on my team to write multiple status updates for every piece of content we put into the content library.

Demand for a Mobile Experience

– With the rise of smartphones, advisors demanded that content sharing be accessible and easy from their mobile devices.

Stalled Usage

– Advisors were not sharing regularly due to content limitations and an overall poor experience.

Technology Advancements

– With the introduction of AI and natural language processing a better overall experience was available so advisors could spend less time searching for content and more growing their businesses.
Our program was struggling to grow and drive more engagement because our Financial Advisors weren't getting enough value from it, and their usage was declining as a result. We were paying for 1000 licenses and we were down to just 400 active monthly users. We had to act.
Grapevine6 and Proofpoint
After evaluating multiple vendors, the choice was clear. We'd move off the legacy platform we'd been using for five years and partner with Grapevine6 and Proofpoint.
And now the fun part began: Building a transition plan to move our existing users over and to expand the program to encompass all 2,500 Financial Advisors. 
We worked closely with our new partners, and with a wide range of internal stakeholders, to develop a comprehensive roadmap. We brought in a project manager to help us determine our timeline and to assist us in pulling all the meetings together that were going to be necessary to transition smoothly. 
Collaboration Was Essential
One of my biggest takeaways from this time is be sure to work extremely closely with your internal compliance partners and your compliance vendor as this transition can be a nightmare if you don't collaborate seamlessly and test, test, test at every stage of the journey.
Here are some things you should be sure do when transitioning from one vendor to another: 
Determine and involve the key stakeholders from the beginning.

Leverage project management resources if at all possible.
Build a rollout plan and determine all the critical dates in advance.
Meet weekly with your stakeholders to ensure timelines are being met.
Develop a comprehensive communication plan – I can't stress this enough!
Find a field sponsor to help plan, communicate, and troubleshoot your rollout.
Soft launch with a Friendly Market Group. See note below about the right size group.
Plan well, but remain flexible. There will be unforeseen challenges along the way.
When we moved to Grapevine6 and Proofpoint, we rolled out what we called our Friendly Market Group first. They were basically the pilot users, and they were critical to validating the plan and providing real-world feedback on the launch materials and training we built for compliance officers and the Financial Advisors. 
Perhaps most importantly, they would be the source of some success stories we'd use in our communications during the full rollout.
My advice is don't go with just 25 or 50 users in your pilot group. That's too small. Test with 150-350 users as this will help ensure that you've planned for everything.
Too often pilots are done with hand-selected super-users whose experiences, challenges, and feedback are not representative of the wider population. It will pay off in the long run to pilot with a larger user group. 
We had numerous learnings and takeaways from our Friendly Market Group that we incorporated into our full rollout plan, and we were able to capture testimonials from Financial Advisors which added a lot to our field communications. Any time you can add the voice of the field to your communications you'll have a greater impact. Financial Advisors don't want to hear from the Home Office, they want to hear from their peers. 
When our formal launch rolled around on January 29, 2018, it went off without a hitch. It came together exactly as we'd planned, and by the end of the first full month, we had more than 1,000 Financial Advisors activated on Grapevine6. That number had grown to 1500 by May 2018.
It was clear that the transition was appreciated by our Financial Advisors, and the proof was in the usage data. Grapevine6 was delivering what our Financial Advisors had been demanding for years: highly relevant and timely content that was unique to each of them.
In addition, Proofpoint improved the overall compliance process for Financial Advisors and helped reduce the burden placed on the compliance team to review high volumes of content. 
Most importantly, our Financial Advisors appreciated, understood, and used their new tools. In a world where a lot of powerful technology gathers dust on the shelf, we were earning a place in our people's lives and business-building routines and we knew we could keep building from there.
It Wasn't as Scary as it First seemed
In the end, transitioning from one vendor to another (or in our case from one vendor to two new vendors) wasn't as scary as it first seemed. 
We collaborated, planned, communicated, tested, learned, planned, and communicated some more. And we delivered a lot of value to the business.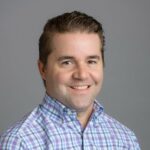 Nate Isaacson is the director of channels and technology at Grapevine6. He is a veteran of social selling in the insurance industry having spent 12 years with Guardian Life building their program from scratch and rolling it out across the country. Learn more about Nate by visiting his LinkedIn Profile.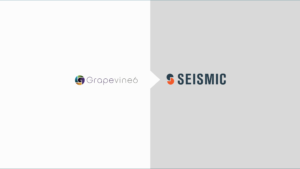 Grapevine6 has been acquired by Seismic, the industry-leading sales enablement platform provider Today marks the beginning of a new chapter
Read More »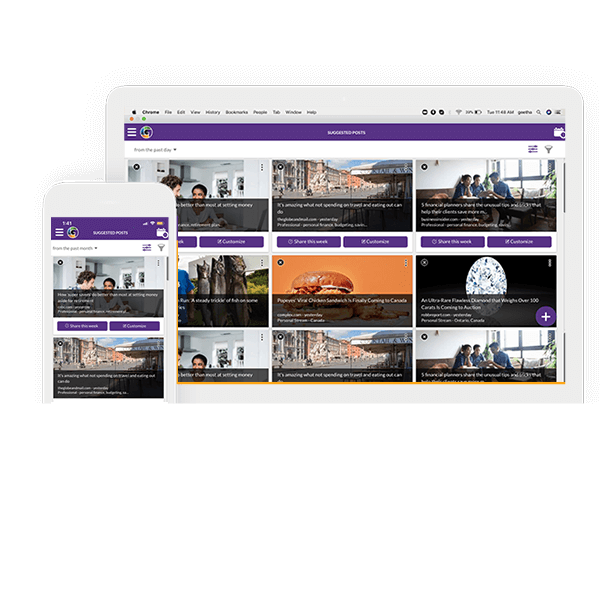 build your successful social selling program today with Grapevine6
Better content + Easy to share + Robust compliance + Powerful Analytics