How SAP's Tolkyn Nurusheva uses social selling to build her business network.
SAP has trained more than 10,000 sales and marketing employees in social selling including how to use tools such as LinkedIn Sales Navigator, Twitter and Grapevine6 to generate leads, build pipeline and win business. In this, the first of a series of blog posts, you'll hear from SAP leaders on how they use these tools to drive success and how social selling has helped them in their roles.
This first interview is with Tolkyn Nurusheva, a Senior Account Executive based in Almaty, Kazakhstan.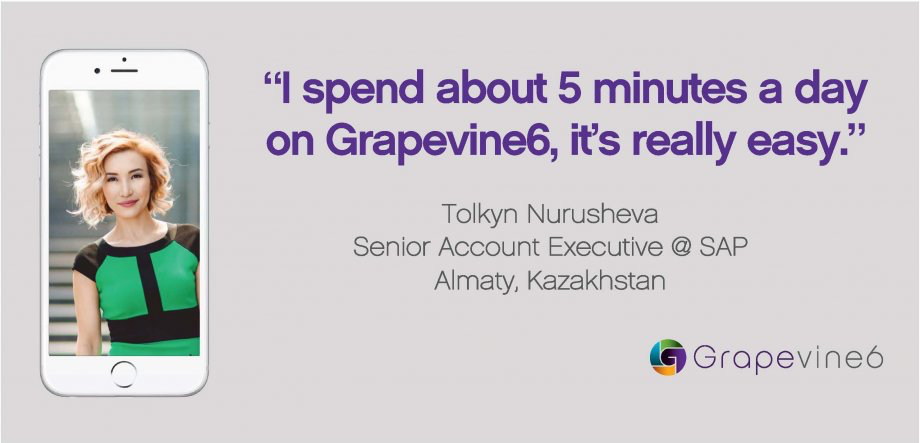 SAP's Account executive Tolkyn Nurusheva uses Grapevine6 to generate leads, build pipeline and win businesses
About Tolkyn.
I'm the account manager for the banking industry, for all the banks in Kazakhstan, (that's about 35 organizations) and I've been with SAP for 10 years. My role includes account management – working with customers on a daily-basis – and working closely with my team including channel marketing, presales, architects and consulting services.
Social selling in Kazakhstan.
In the last three years social media has been growing very fast in Kazakhstan, the most popular networks today are LinkedIn, Facebook and Twitter. I use Grapevine6 to share news that I think will be relevant to the people in my network.
Using digital tools to reach the right people.
I previously used a LinkedIn Premium account because I knew that if you want to find a person related to you in the business world, you need to use LinkedIn.
About two years ago I discovered that SAP had sales tools that were available to the sales team in CIS. The tools included Grapevine6 and LinkedIn Sales Navigator. I immediately started using them.
A simple social selling routine.
When I come to work, I read about banking news globally and locally and either upload an article I find to the Grapevine6 mobile app, or I'll find an article on the app (in my suggested posts) and share it to LinkedIn, Twitter and Facebook. I don't really spend that much time on it – maybe about five-minutes per day. It's really easy.
Using Grapevine6.
I try to post the topics related to my industry around 4:00 pm local time. I find this time slot is when most people go on social media, it's when they are ready to read something. I don't have a lot of time during the workday to read content on social media and I know it's the same for my audience, that's why most of my shares are at 4:00 pm. I may post something once a day, once every three days or maybe even once a week. I focus on posting content that's relevant to Kazakhstan bankers and connect the content to SAP solutions.
Grapevine6 is a great tool, it doesn't take much time and it really helps to spread the word.
How social selling helps.
It really helps with networking, in fact, some of the new contacts in my network came from social media. It's easy to connect to someone on LinkedIn when you have a good profile and it's clear who you are.
Social selling success story.
It's not possible for them to know about every product SAP offers for the banking sector. One contact at the bank didn't know SAP had an e-commerce platform or customer engagement products – he always thought that SAP was just for ERP. But he learned about our solutions from my social media posts and agreed to have a meeting with me to learn more. He wouldn't have known about our capabilities otherwise.
In CIS there is a large sales team (100+ execs), imagine if everyone on the team was sharing content about SAP to all their social media networks. I personally have around 1,000 connections on Facebook and 1,500 on Twitter and more on LinkedIn, so if you multiply that by 100 people, awareness will grow substantially. A lot more people will learn about our solutions. Even if they just see the title of the article we're sharing they are still being reminded of SAP and learning about us.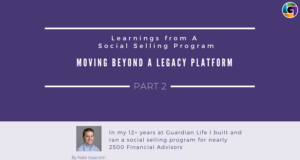 In my 12+ years at Guardian Life I built and ran a social selling program for nearly 2500 Financial Advisors.
Read More »