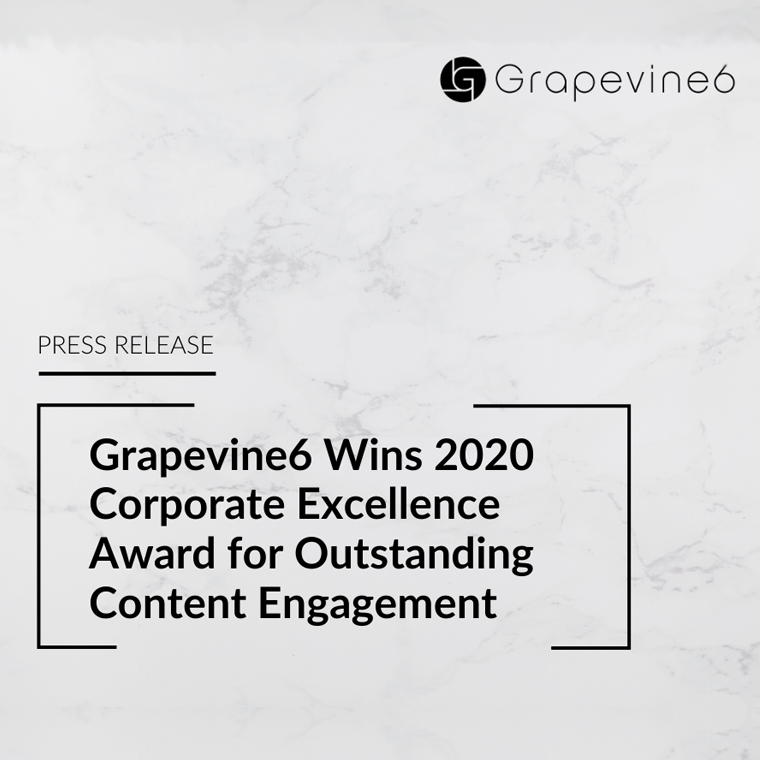 PRESS RELEASE: Grapevine6 Wins 2020 Corporate Excellence Award for Outstanding Content Engagement.
Grapevine6, a mobile-first enterprise content engagement platform for digital selling has been named "2020's Most Outstanding Content Engagement Platform – USA." The company is featured here in the March issue of Corporate Visions (CV) Magazine, published by AI Global Media.
Grapevine6 was selected "2020's Top Content Engagement Provider" based on their consistent proven track record as an innovator in content driven sales enablement. This award is part of the 2020 Corporate Excellence Awards, a merit-based awards program now in its third year.
"Digital communications are more critical than ever as we all work to find ways to engage customers and buyers. Relevant content can advance sales conversations and build authentic relationships with prospects and customers," notes Grapevine6 Co-Founder and CEO, Mike Orr. "Winning this award is the acknowledgment that we are delivering on the market's need to share the right content across digital channels that creates real connections and shapes the client experience."
Grapevine6 offers a patented content engagement platform for sales and marketing professionals to deliver relevant, personalized content to nurture and develop meaningful relationships with prospects and clients. The company consistently receives outstanding client reviews from Fortune500 companies such as SAP and Guardian Life, who are early adopters of social and digital selling. SAP has fully embraced social selling on a global basis and is attributing a sales pipeline of over $2B. In the last few years, Guardian has grown revenues 65%, while slashing digital risk.
Last April, Forrester named Grapevine6 a leader in Sales Social Engagement Tools. Grapevine6 was recognized as "for leading the pack with its seller focus and AI functionality."
About Corporate Vision (CV) Magazine
CV Magazine is a monthly magazine published by AI Global Media Ltd. The magazine informs and shapes the global corporate conversation through a combination of high-quality editorial, rigorous research, and an experienced and dedicated network of advisors, experts, and contributors.
CV Magazine launched in 2014 and has, over the years, evolved into a business title that professionals rely on to bring them the business knowledge, insight and news they need. Each month our magazine is circulated to in-excess of 130,000 professionals, including top-tier managers, key decision makers, business advisers and service providers. For information visit: cv-magazine.com/.