Wealth management industry leaders came together at Aite Group's Wealth Management in Transition Executive Forum on October 21 and 22 and Grapevine6 CEO Mike Orr delivered some provocative perspectives. 
The wealth management industry is changing extremely quickly, with the majority of business happening virtually and traditional methods of acquiring and serving clients no longer viable. Wealth management firms and advisors are increasingly emphasizing advice and holistic financial planning, and the tools they use to communicate with their clients are changing as well.
If you were unable to attend the live event, here are some of the key insights and takeaways:

Recognize that digital communication is a skill

Building trust and relationships on social media is a skill much like any other business capability.  You don't just automatically feel comfortable and achieve success. There's a learning curve. It doesn't happen all at once, but by investing the time and effort to build the necessary expertise, digital communication can become a powerful business-building tool.

Advisors need to expand their knowledge with content

You want your advisors to give the right content to the right individuals.  One of the major benefits of social engagement is that it allows you to personalize the customer experience and broaden your range of knowledge by providing unique content to every client. 

Advisors can overcome the lack of face-to-face communication with social tools

There's no doubt that we lose a certain richness of communication when it comes to using social tools, however, there are also several benefits. It's not just the advisor getting to know the client, it's also an opportunity for clients to better understand and appreciate the advisor. Everyone talks about 360-degree view of the client, but we shouldn't overlook the value of helping clients to better know, understand, and appreciate their advisor. 
What's their point of view? What are their areas of expertise? What sort of community involvement and rich relationships do they have? Being active and authentic on social media can go a long way here, especially when getting face to face is difficult.

Clients want transparency

One of the biggest opportunities social media provides is allowing clients and prospective clients to get to know you. This makes advisory conversations more valuable and a lot more comfortable for both parties. Trust has become a challenge since we're all virtual and social is a great place to build and strengthen that trust and transparency with your clients.

Exciting Times

These are exciting times for those advisors and those firms that are embracing the opportunity to reimagine what an exceptional client relationship can involve.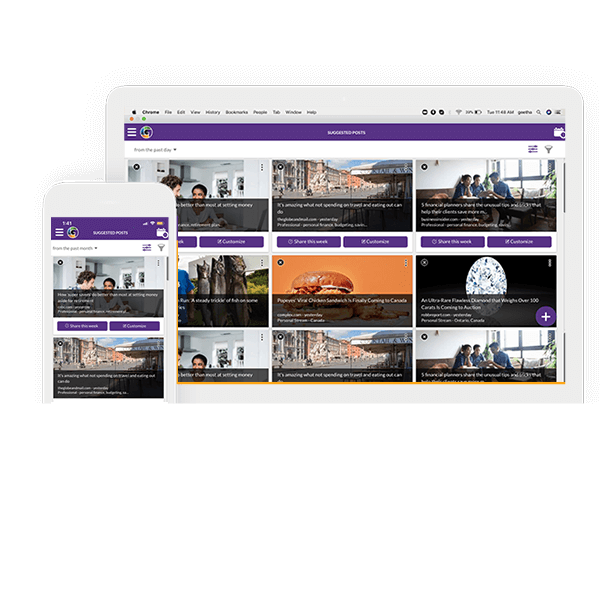 Reinvent advisor-client engagement with Grapevin6